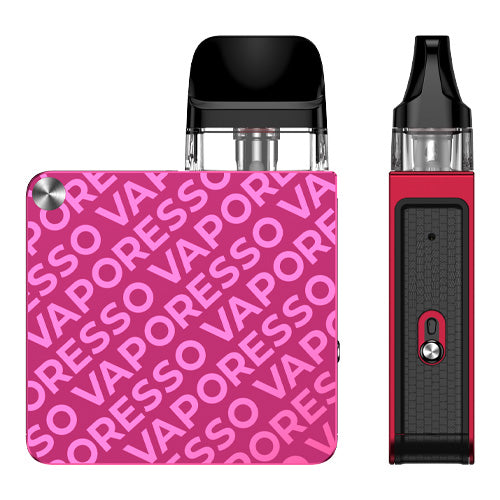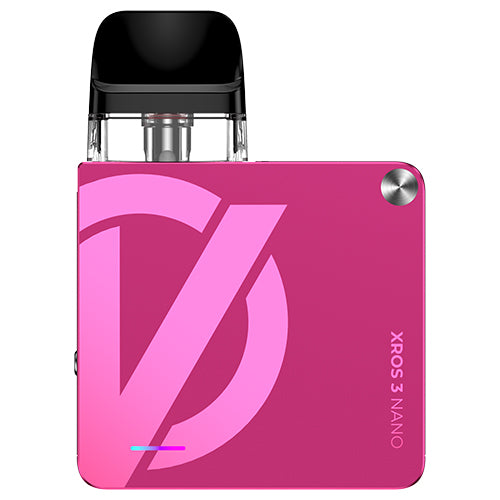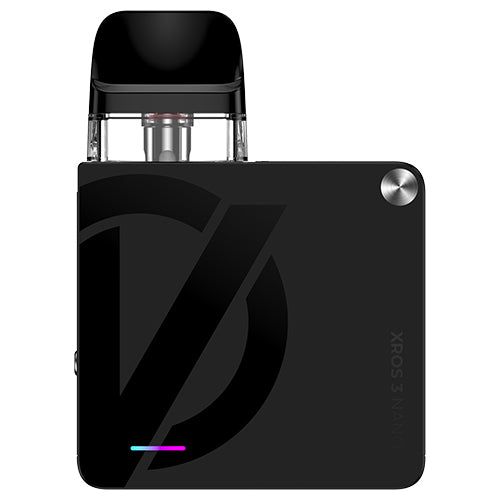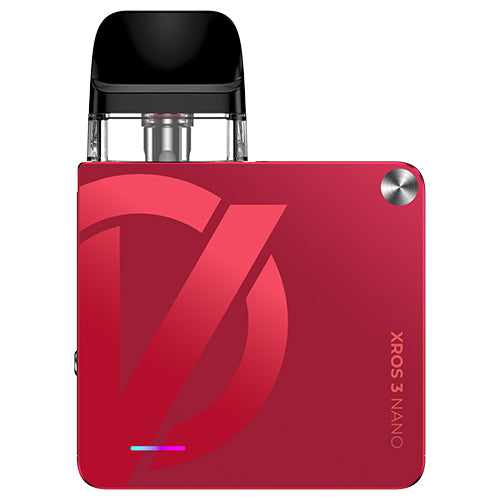 Vaporesso XROS 3 Nano Pod Kit
Regular price
Sale price

$38.95
(/)
Xros 3 Nano Pod Kit by Vaporesso has everything you need to vape simply in its tiny, square body. If you're new to vaping, you'll enjoy the easy-to-use Vaporesso Xros 3 Nano Pod Kit with its refillable, disposable Xros Pods, convenient top fill, button-less, draw-activated vaping.
You may also appreciate the adjustable airflow slider so you can tighten or loosen your draw and adjust your vaping experience while you vape at least an entire day on a single charge of the Xros 3 Nano's 1000mAh battery. The vape gurus may want to know that the Xros 3 Nano Kit can perfectly mouth-to-lung (MTL) vape and even has a decent restricted direct-lung (RDL) draw!
Xros 3 Nano shines bright like a diamond
Maybe not a diamond but its beautifully-bold colours make the Vaporesso Xros 3 Nano the brightest shorty in the Xros Vape Kit family, that's including its predecessor, the original Vaporesso Xros Nano. Of course, it's not all about looks, the Xros 3 Nano Battery has a bunch of features that help you vape simply:
Built-in 1000mAh battery – tiny body with a battery that lasts all day or more (unless you chain-vape).
Battery indicator light – a small neon light shines three different colours as you vape, indicating your battery level; green for 70-100%, blue for 30-70 and red for less than 30% battery capacity left.
Auto draw (aka draw-activated vaping) – just draw to vape from the mouth piece of the Xros Pod, once filled with e-liquid.
Safe carry without buttons – no buttons to be accidentally pressed so chuck the Xros 3 Nano Vape in your pocket or bag without a worry.
Type C charging.
Fires quickly – almost instant vape clouds when you draw.
Pulse Mode – built in to give you great vapour flavour from the first to the last draw, regardless of battery level.
Adjustable draw – the sliding button on the side of the Xros 3 Nano Vape Kit adjusts your draw to tighten or loosen your puff.
Chain lanyard included – modern, silver chain included so you can conveniently hang the Xros 3 Nano around your neck, go about your business and vape when you need to.
MTL vaping – a restricted draw like that of the old cancer sticks, where you hold the vapour in your mouth after drawing before inhaling to your lungs.
RDL vaping – a looser draw where you inhale vapour straight to your lungs, bypassing the mouth with some restriction.

Use the included 0.6 ohm Xros Pod with fully open airflow slider to get warmer clouds, a boost in vapour flavour and decent RDL draws.
A universal Xros Pod
Well, Xros Pods are only universal within the Vaporesso Xros Pod Kit family. So, maybe not universal at all; just cross-compatible. You may have heard of many Vaporesso Xros Pod Kit renditions, like the original Xros, Xros 2, Xros Mini and so on. Conveniently enough, all Xros Pod Kits, including this Xros 3 Nano Vape Kit, use the same Vaporesso Xros Replacement Pods to make your vape-life easy. More things to love about the Xros Pods include:
Simple top fill – push the black mouthpiece of the Xros Pod away from you (at the longer side) to remove and fill with e-liquid via the red-coloured fill port.
Magnetic – strong magnetic connection to the Xros 3 Nano Mod/Battery keeps your pods in place, even when carrying in your pocket.
Disposable – refillable pods but once Xros Pod stops giving you good vapour flavour, as much vape clouds or start excessively leaking, you throw the whole pod away and replace it with a new one.
Easy to monitor – see e-liquid level through transparent sides and avoid vaping on an empty pod that can burn your built-in coil and end the life of your Xros Pod.
Upgraded 0.6 ohm pod included – Vaporesso's Corex Heating Technology is used to develop this pod, resulting in longer pod life and more accurate vapour flavour, due its rapid and even heating.
2mL e-liquid capacity – all you need for the low-wattage vaping of the Xros 3 Nano.
SSS leak-resistant technology in the pod which stands for:

seal comprehensively with the o-rings that keep the air pressure in for a tighter draw
store safely with extra seal that may prevent leaking while not in use
saturate properly via the large coil openings to the cotton to avoid burning the coil or getting a dry hit (that is, it helps prime coil and keep the cotton wet while vaping).
Please note:
Remove and dispose of the plastic strip at the bottom of new pods before using.
It's essential to prime new pods before vaping.

Remove the black mouthpiece (push it off).
Fill with vape juice.

Put the black mouthpiece back on the pod.
Cover the air holes at the bottom of the pod with your finger while gently taking about five short draws on the mouthpiece. This draws e-liquid to the coil's cotton to saturate it and avoids getting dry hits or prematurely burning your coil. You can also let it sit for five to 10 minutes.

Install the pod on the battery and vape.
Vaporesso Xros 3 Nano Pod Kit Specifications:
Size: 69.9 x 14 x 51.2mm
Vape juice capacity: 2mL
Built-in battery capacity: 1000mAh
Adjustable airflow
Disposable, refillable Vaporesso Xros Pods
MTL & RDL vaping
Low to medium vape clouds
Top-filling pods
Very easy to use – no buttons
Corex Heating Technology for better flavour (0.6 ohm pod)
Neon battery indicator
Auto Pulse Mode
Type-C USB port, 5V 1A
SSS Leak-Resistant Technology
Package includes:
Vaporesso Xros 3 Nano Battery Mod
Vaporesso Xros Series Mesh 0.6 ohm Pod
Vaporesso Xros Series 0.8 ohm Pod
Type-C charging cable
Lanyard
User manual
Warranty card
This product does not contain nicotine.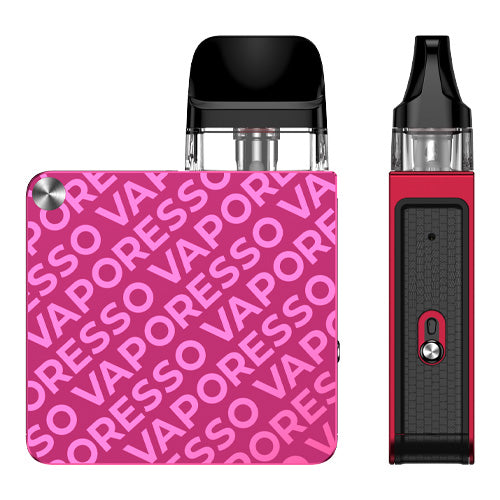 Vaporesso XROS 3 Nano Pod Kit
Regular price
Sale price

$38.95
Choose options