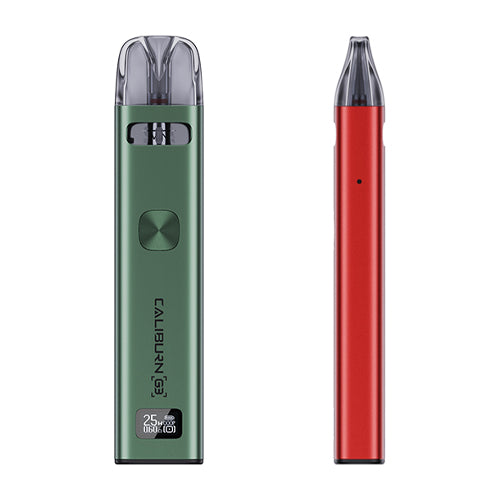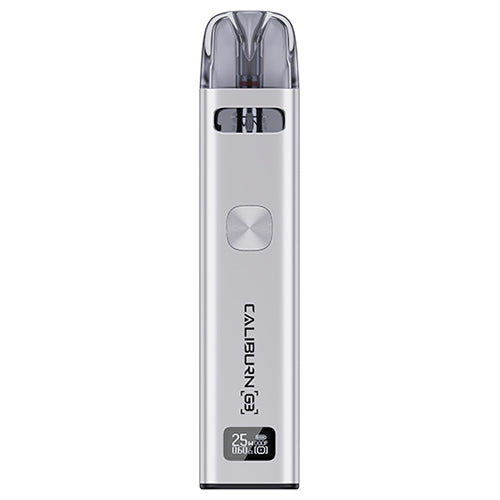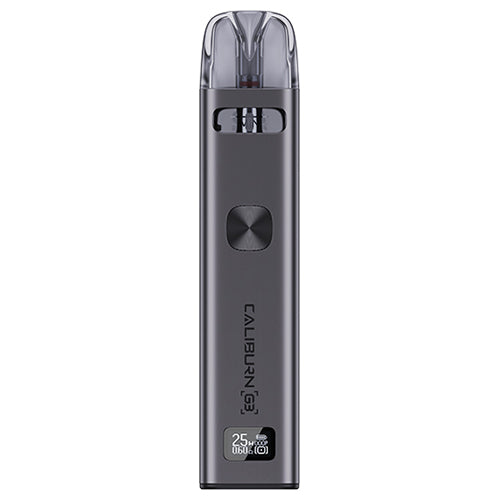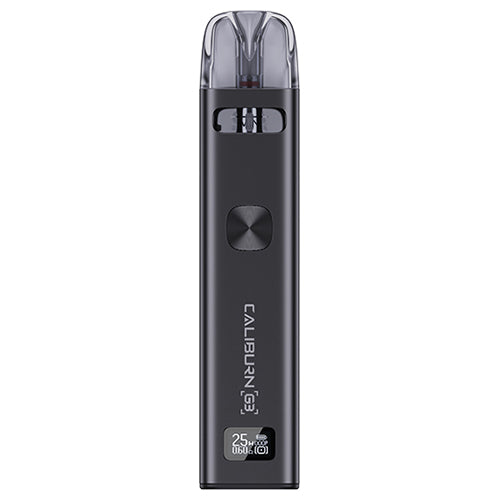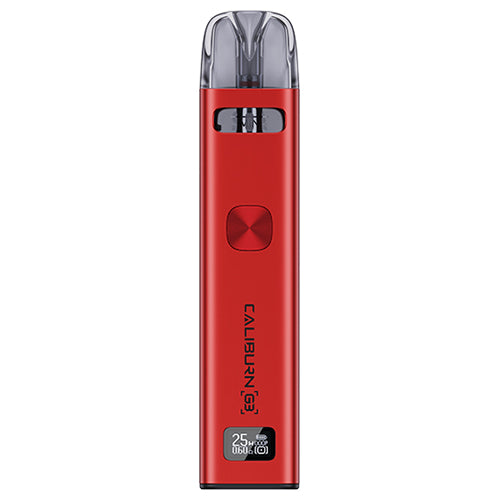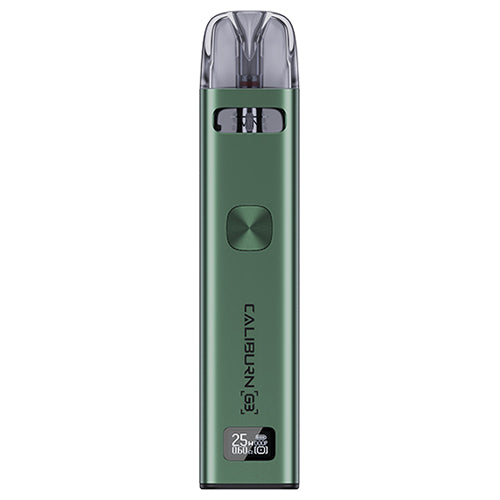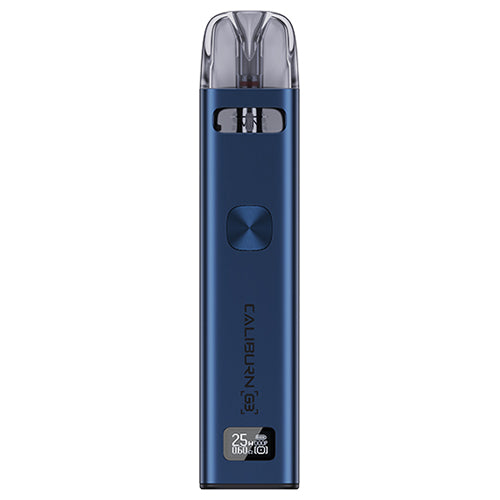 Uwell Caliburn G3 Pod Kit
Regular price
Sale price

$35.95
(/)
In stock
In stock
In stock
In stock
In stock
In stock
Caliburn G3 Pod Kit by Uwell makes your vape life easy like all Caliburn Pod Vape Kits but has a little more versatility than most its family. The Uwell Caliburn G3 Pod Kit features all-day vaping with its 900mAh built-in battery, fast charging, adjustable wattage and the bigger-than-your-average-Caliburn-pod, Uwell Caliburn G3 Pods, that have 2.5mL e-juice capacity. The Caliburn G3 Pods give you adjustable airflow and the choice of restricted direct-lung (RDL) or mouth-to-lung (MTL) vaping by including 0.9 and 0.6 ohm disposable pods in the kit. See? Versatile vaping.
Caliburn G3 Battery handles the power
When we say power, we mean the power of a simple pod vapouriser, not the hectic, beast vaping devices. As a pod kit, the Uwell Caliburn G3 Battery has been built to not only handle up to 25W of power which is on the higher end of comparable pod kits and you'll see why when you read its features below:
Auto-draw and fire button to vape – in fact, the Caliburn G3 Battery gives you three ways to vape, called 'trigger modes':

Auto mode (default): use the fire button or just draw on the mouthpiece (auto-draw) at any time.
Auto-draw only: double-click the fire button to lock the button and only draw to vape.
Fire button only: double-click the fire button again to lock auto-draw and only vape by pressing the fire button. Double-clicking fire button again takes you back to Auto mode.

900mAh battery – built in to your Caliburn G3 Battery for all-day vaping (depending on how much you vape).
Neat display screen – no need to interpret the colour of an LED light to check your battery level! Battery level, wattage, puff counter, resistance and trigger mode are all on a tiny, bright display screen.
E-liquid window – wider than the Uwell Caliburn G2 Pod Kit that helps you keep an eye on your vape juice level so you can top up before vaping on an empty tank. This might save you from burning your coil.
Type C charging – fast 2A charging from the charge port on the bottom.
Light-weight aluminium body – weighs on 47g that's easy to carry in your bag, pocket or hand.

Psychic battery – built-in Smart Mode that detects the resistance (ohm) of the pod installed and changes the max wattage to suit the pod, saving you accidentally upping the wattage beyond the coil's range.

Vibration alerts – Uwell Caliburn G3 Battery uses haptic feedback for alerts such as charging/stopped charging, pod inserted correctly and protection alerts.
Disposable Caliburn G3 Pods
Unlike the original Uwell Caliburn G and Caliburn G2 Pods that have replaceable coils, the Uwell Caliburn G3 Replaceable Pods are disposable, but refillable, with a built-in coil. Keep reading the Caliburn G3 Pod features to find out why being disposable helps your vaping experience:
Disposable pods – you only replace the Caliburn G3 Pod (not the whole vape kit) once it stops giving you good vaping, like if it leaks excessively, doesn't produce the same amount of vape clouds or has a burned taste.
Air-tight for less leaks – being disposable means the Caliburn G3 Pods create an air-tight environment that minimises leakage potential.
Air adjustment – adjustable airflow via a dual airflow system with each pod giving you a tighter and looser draw depending on the way it's inserted. Take Caiburn G3 Pods out of the battery and rotate 180° to change your airflow.
Fills from the side – take the pod out of the Caliburn G3 Battery and fill with vape juice via the rubber-plugged fill port on the side.
2.5mL vape juice capacity – doesn't sound like much but the Caliburn G3 Pods are actually bigger than predecessors and you're vaping at low wattage so it shouldn't burn through a lot of e-liquid very quickly… Unless you chain vape the 0.6 ohm pod.
Perfect mouthpiece for your lips – the built-in mouth piece is shaped for comfort.
Good vapour flavour and throat hit – Uwell's Pro Focs Technology upgrade provides you more accurate vapour flavour and fluent airflow.
Magnetic security – Caliburn G3 Replacement Pods connect securely with magnets.
Mouth-to-lung (MTL) vaping – adjust your airflow by rotating the 0.9 or 0.6 ohm Caliburn G3 Pods to get tight to loose MTL draws which simulate the old ciggie draw (draw vapour to mouth, hold, then inhale to lungs).
Restricted direct-lung (RDL) vaping – use the looser airflow of the 0.6 ohm Caliburn G3 Pod to get a perfect vape (where you inhale the vapour directly to the lungs, like a restricted breath through your vape).
Please note:
Caliburn G3 Pods are not interchangeable with other Caliburn devices.
Turn off the Caliburn G3 Pod Kit by clicking the fire button five times quickly when carrying in your pocket or bag, so the button isn't accidentally pressed.
It's essential to prime new pods before vaping.
Fill pod with vape juice.
Cover the air holes at the bottom of the pod with your finger while gently taking about five short draws on the mouthpiece. This draws e-liquid to the built-in coil's cotton to saturate it and avoids getting dry hits or prematurely burning your coil. You can also let it sit for five or ten minutes.
Install the pod on the battery and vape.
Uwell Caliburn G3 Pod Kit Specifications:
Vape juice capacity: 2.5mL
Battery capacity: 900mAh (built-in)
Size: 115.5 x 24 x 13.9 mm
Weight: 47g
Maximum wattage: 25W
Material: PCTG plastic (BPA free) pod & aluminium alloy device
Built-in coil specification: meshed 0.6 & 0.9 ohm
Side-fill pod cartridges
Disposable, refillable pods
Compact and light-weight
Easy to use – button or auto-draw vaping
Uses Uwell Caliburn G3 Pods only
Type-C USB charge port
RDL & MTL vaping
Pro-FOCS Flavour Adjustment Technology for good flavour
Protections: 8-second cut-off, no atomiser, atomiser short and low battery
Package Includes:
Uwell Caliburn G3 Battery
Uwell Caliburn G3 0.6 ohm Pod
Uwell Caliburn G3 0.9 ohm Pod
Type-C charging cable
Lanyard
User manual
This product does not contain nicotine.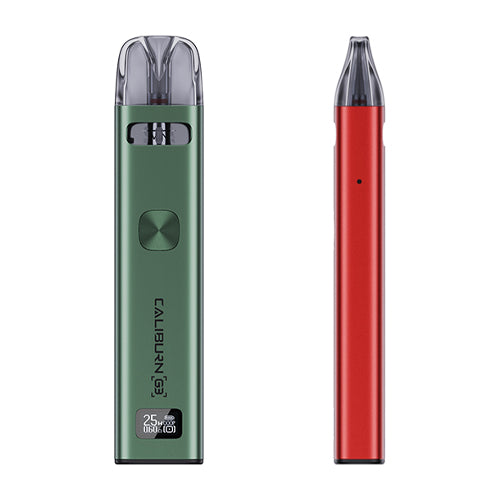 Uwell Caliburn G3 Pod Kit
Regular price
Sale price

$35.95
Choose options