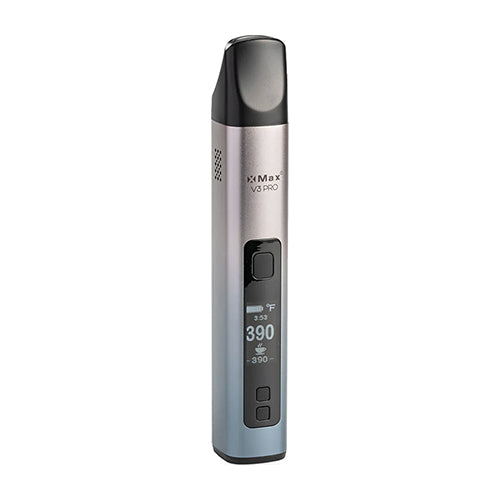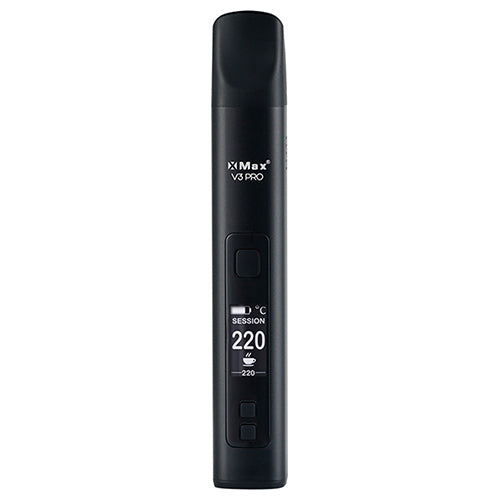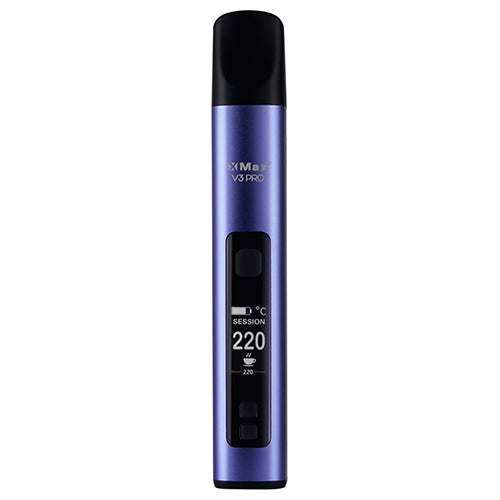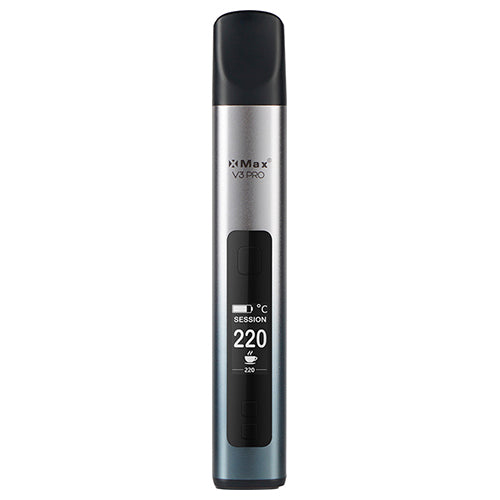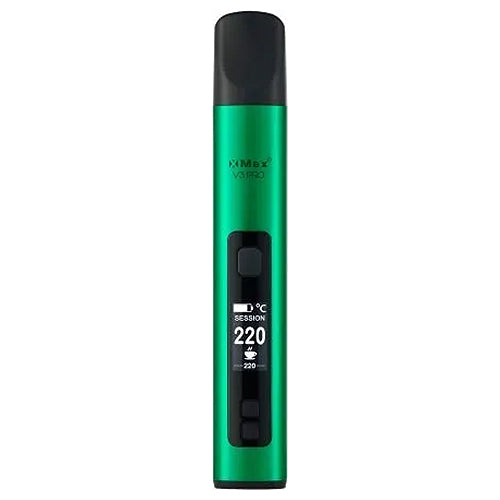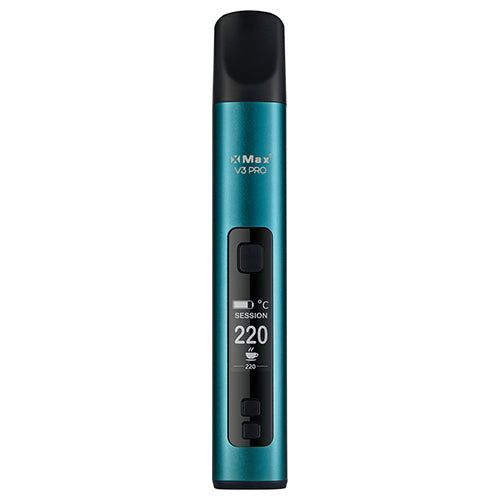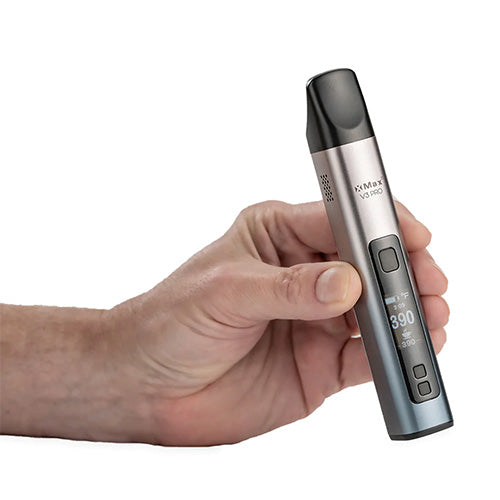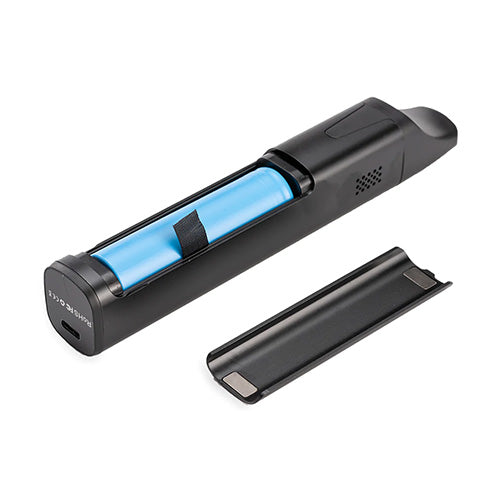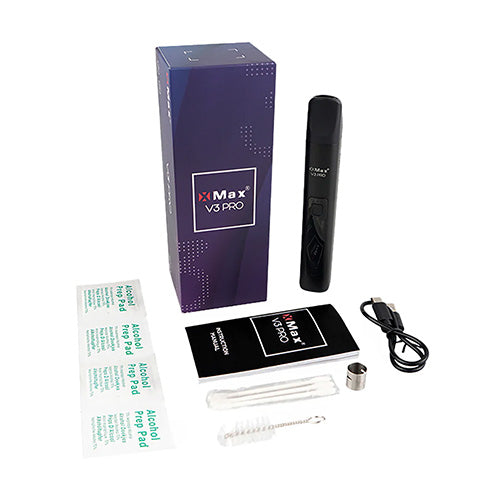 XMAX V3 PRO
Regular price

$149.95
Sale price

$129.95
(/)
In stock
In stock
In stock
Out of stock
In stock
V3 PRO Dry Herb Vapouriser by XMAX will heat up in 10-30s to produce smooth, soft vapour from any dry herb material with its convection heating method. The small, stainless steel filling chamber of the XMAX V3 Pro Dry Herb Vape is enough for five to seven hits using one of two modes, Session or On Demand, that are easily adjusted with a few clicks of its three buttons. The XMAX V3 Pro gives you full temperature control (100-220°C), 45-60 minute run time and an included 18650 battery that you can swap out and keep dry herb vaping. The magnetic V3 Pro Mouthpiece even comes with a built-in stir/packing tool for easy cleaning of the light-weight V3 Pro Dry Herb Vaporizer.
Easy dry herb vaping with XMAX V3 Pro
Pack, heat, vape and clean. It's as simple as that to dry herb vape and maintain the XMAX V3 Pro Dry Herb Vapourizer. Of course, over time you may need to replace certain parts but in terms of actually dry herb vaping, the V3 Pro Vape keeps things simple so you can vape on the go too. Keep reading to find out how simple and feature-rich the XMAX V3 Pro actually is:
Ceramic Airflow Box – creates a ceramic air path that protects your vapour from coming in contact with silicone or plastic for cleaner vaping.
Built-in packing/stir tool – all compatible mouthpieces (including the Glass Mouthpiece and Glass Water Bubbler that are sold separately) have one thin, elongated side that can be used as a packing, stirring on cleaning tool.
Three buttons – a fire button and up/down buttons make vaping easy.
Magnetic mouthpiece and battery lid – both stay on the V3 Pro Vapouriser securely with strong magnets and are sold separately for replacing when needed.
Included 18650 battery – gives you the option of exchanging batteries instead of waiting for your V3 Pro Dry Herb Vape to charge via USB-C. Some reviews say charging with the cable can take hours so grab yourself an external battery charger and some spare 18650 batteries.
Large, vibrant screen – see vape settings such as mode, battery level, temperature and heating indicator clearly.
Vape for 45-60 minutes on one charge – this depends on the temperature you dry herb vape at and what mode you use.
Less than 30-second heat-up time – varies with temperature and mode.
Convection heat method – uses hot air to heat dry herb material which prevents burning. This type of heating may need a few small 'cigar-puffs' first, prior to longer draw to get desired temperature.
Accurate temperature control – choose between 100 and 220°C (212-428°F). Press fire button and down button at the same time to switch between °C and °F.
Smooth vapour and pure vapour flavour from convection heating – enjoyed with V3 Pro Dry Herb Vape's wide airflow.
Two modes to vape with – press up and down buttons together to switch modes.
On Demand Mode – push the fire button to start heating and when it vibrates, it's reached your temperature so you can start to draw while continuing to hold down the fire button. Only heats when you press the button.
Sessions Mode – gives you two options, 4 minute or 6 minute sessions. Heats up to desired temperature and maintains it for the duration of the session time.
Auto shut-off for safety – the V3 Pro Vapourizer goes into stand-by mode if not touched for 30 seconds and automatically powers off if not touched for two minutes.
Manual off/on with three clicks of fire button.
Haptic feedback (vibration) – lets you now when heated so you don't always have to look at the screen to know.
Small filling chamber – XMAX V3 Pro Vaporizer is good for small sessions with quarter-gram size bowl (five to seven hits).
Option to use dosing capsules (sold separately) – pre-fill dosing capsules with dry herb material and slot them right into the chamber when you want to vape. Carry pre-filled capsules with you while on the go.
Simple maintenance – clean out bowl/chamber and screen after each use when they have cooled down using cotton swabs and alcohol wipes included. All replaceable V3 Pro Vapouriser parts are sold separately, like the mouthpiece, metal screen or full filter so you can replace them and get your V3 Pro vaping like it's brand new again.
Portable shape – tall, slim shape with light-weight aluminium alloy material makes it easy to carry around with you and it also stands upright on its own, like a valiant dry-herb-vaping soldier.
If simple dry herb vaping and easy maintenance is what you're looking for, the XMAX V3 Pro Vapouriser is definitely one worth considering; especially if you don't require really long sessions. Plus, it's one of the more affordable dry herb vapes so it's also easy on your pocket. Check out the XMAX Starry 3.0 or XVAPE Fog Pro Dry Herb Vapourisers too as they're both made by the same company and offer similarly simple dry herb vaping.
Please note:
Turn device off when carrying in your pocket or bag (three clicks of fire button).
Full list of accessories or replacement parts is available below, after the 'Package Includes' section.
To continue enjoying great vapour flavour and clouds from the XMAX V3 Pro Vapouriser and avoid frequent deep cleans, make sure you clean the filling chamber after each session. Only clean once all parts have cooled.
We do not recommend this device for beginner vapers or anyone not familiar with dry herb vaping.
Not suitable for e-liquid.
XMAX V3 PRO Specifications:
Size: approx. 150 x 26.6 x 23.8mm
Temperature range: 100°C - 220°C (212°F - 428°F)
Body material: aluminium alloy
Battery: replaceable 18650 lithium-ion (2600mAh battery included)
Charger: Type-C USB fast charge
Weight: 115g
45-60min run time
0.96 OLED screen display
Convection heating technology
4-minute and 6-minute sessions (Session Mode)
30s single button hold time (On Demand Mode)
Vibration (haptics) notifications
Safety shut-off feature
10s to heat up to 180°C
Ceramic airpath isolating vapour from plastics
Stainless steel heating chamber
Magnetic battery lid and mouthpiece
Package Includes:
XMAX V3 PRO Dry Herb Vapouriser (with 18650 battery)
Alcohol wipes
Cotton swabs
Brush
Wax cup
Type C USB charging cable
User manual
Parts for you XMAX V3 Pro Dry Herb Vapouriser
The following parts are available for you to purchase separately either to tailor your dry herb vaping or replace parts that have been worn.
Dosing capsules
Screen/filter replacements
Chamber & mouthpieces
Miscellaneous
This product does not contain nicotine.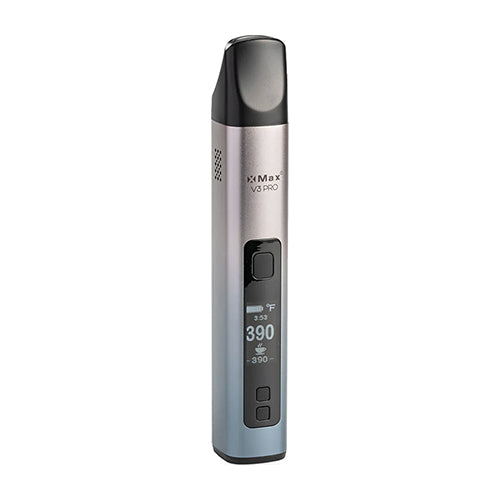 XMAX V3 PRO
Regular price

$149.95
Sale price

$129.95
Choose options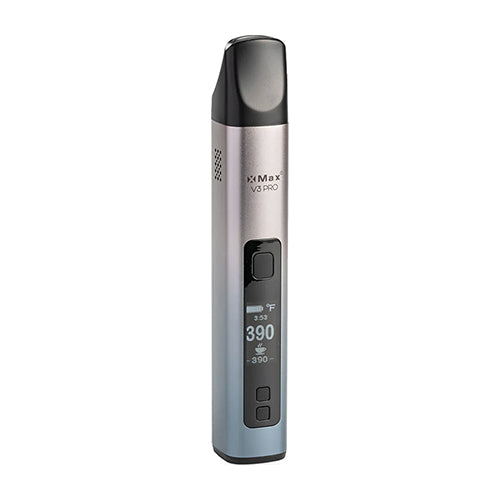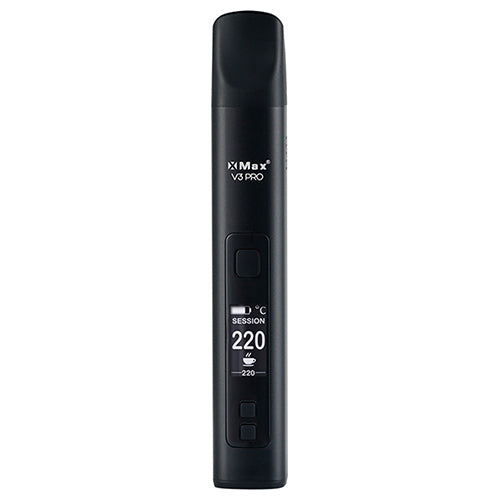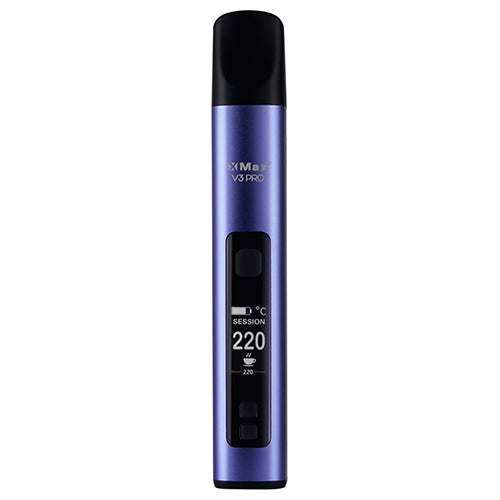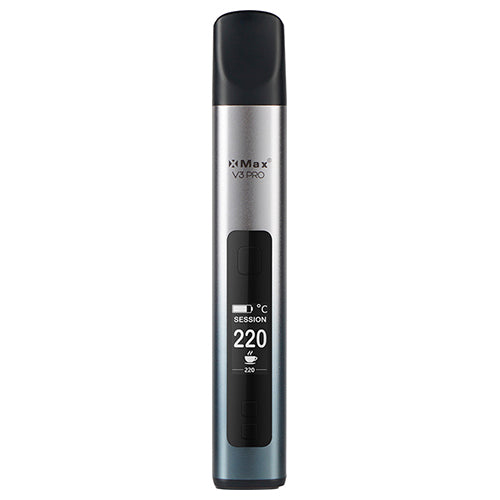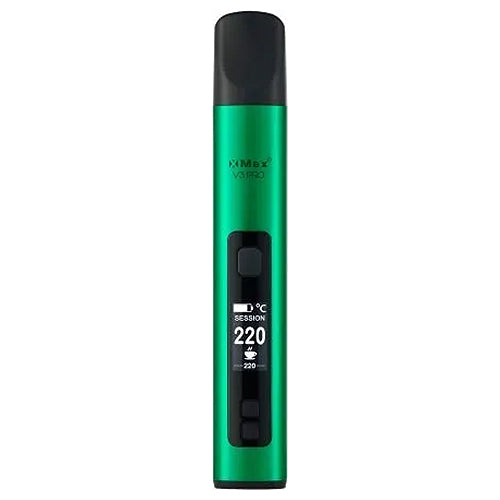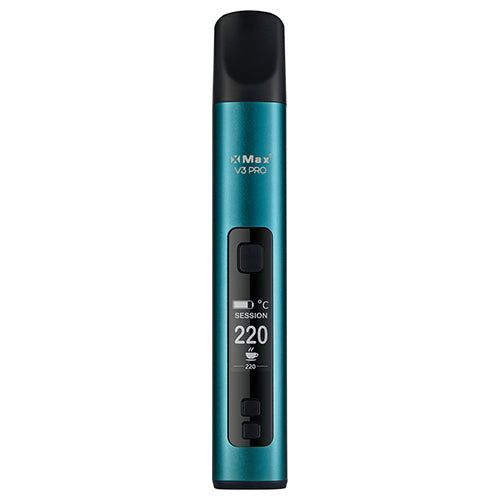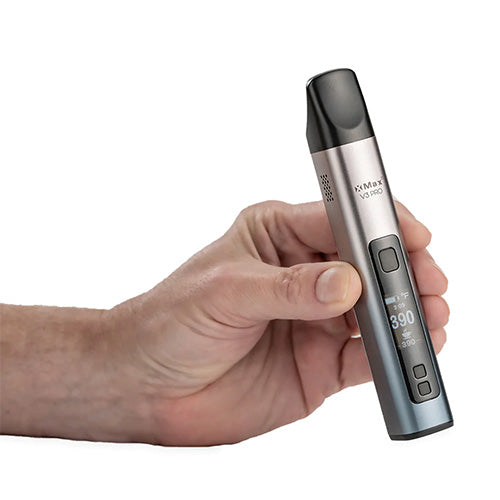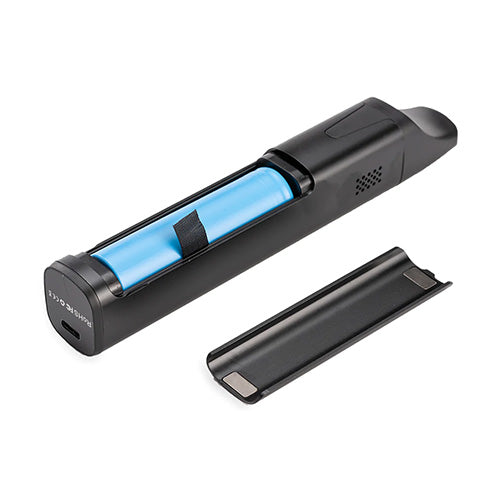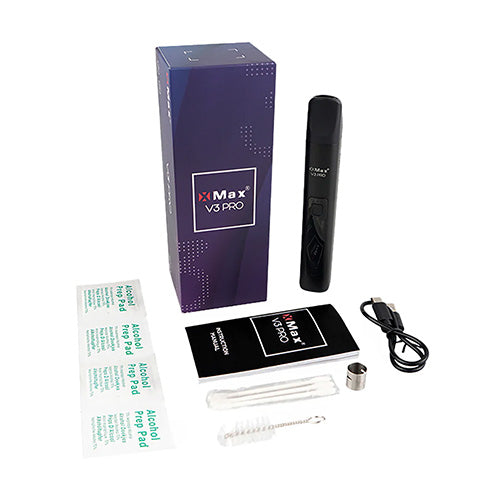 Great Beginner Vape
Simple to use for a first time vaper. Easy to clean and maintain. I suggest using dosing capsules for minimal mess.
Item not received
This item has not been received I submitted a online enquiry suppling my auspost reference number on the 14th of November. Can I please have someone contact me regarding this thank you.
Pretty solid and happy overall with it for the price. Only wish the battery life was longer and the chamber was bigger. (hoping the dosing capsules ease this issue.)
XMax v3 pro
Things I like :-
Removable 18650 battery
Session countdown timer
On Demand mode
Dosing capsules
Flavour
Look & Feel