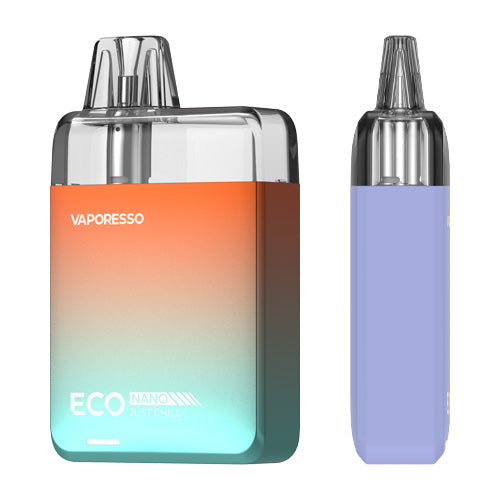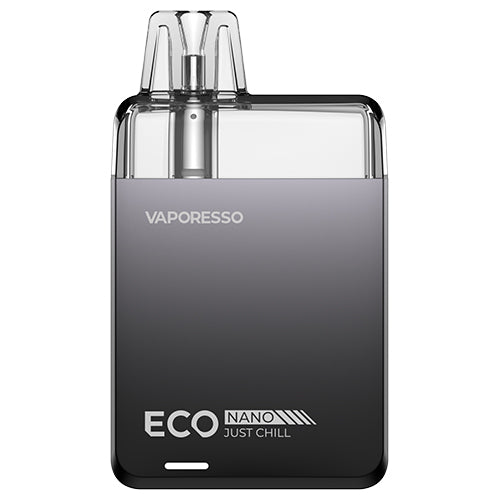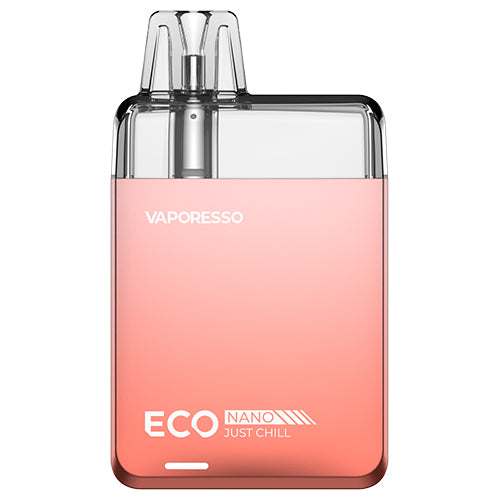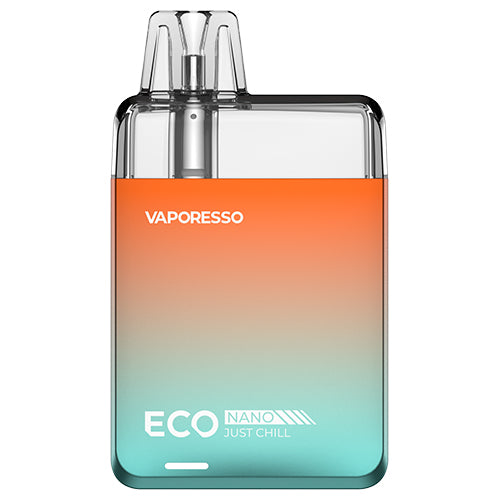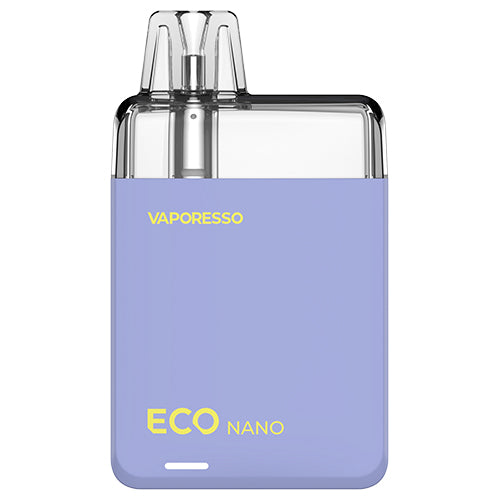 Vaporesso ECO Nano Pod Kit
Regular price
Sale price

$22.95
(/)
Out of stock
Hurry only 2 left in stock!
Out of stock
Hurry only 1 left in stock!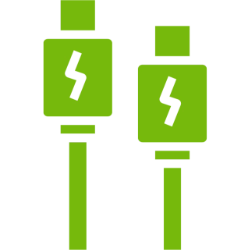 Charging cable not included! Please add a Type-C cable.
ECO Nano Pod Kit by Vaporesso is built like a disposable vape kit but is actually a more cost-efficient and eco-friendly alternative. The Vaporesso ECO Nano Pod that comes in the kit has a ginormous, 6mL e-juice capacity and although the pod is disposable (not the whole vape kit), it lasts a massive 13000 puffs; longer than most disposable vapes. The ECO Nano Battery has a decent 1000mAh capacity for one to three days of easy, button-less, mouth-to-lung (MTL) vaping but it's a keeper; you recharge and reuse it until the battery no longer holds a charge which could take ages, same as any other simple pod vapouriser.
Don't throw out ECO Nano Battery!
Looks can be a little deceiving with the Vaporesso ECO Nano Battery since, at a glance, it screams 'I'm a disposable vape kit'. This is where the wise advice of not judging a book by its cover comes in handy since the ECO Nano Battery is rechargeable and reusable just like any other beginner-vaper-friendly pod vaporizer. Keep reading for all the simple features of the ECO Nano Battery:
Compact body that's easy to carry – weighs only 59g and is only 7.7cm tall to fit in your bag, pocket or palm like a little vape-charm.
Comes in eco-friendly packaging – Vaporesso aims to help reduce plastic pollution and the ECO Nano Battery packaging contributes to this cause.
Non-disposable – reuse the battery as you would any other pod vape kit.
1000mAh built-in battery capacity – charges a little slow but may last you up to two or three days (depending on how much you vape and which pod you use – 0.8 ohm uses battery a little faster).
Simple vaping that's great for beginners – no buttons or settings to complicate things, just fill the ECO Nano Pod, attach it to the ECO Nano Battery and draw to vape.
Inhale-activated vaping (auto-draw) – fill the ECO Nano Pod and just draw on the mouthpiece to vape. No buttons.

ECO Nano Pod is big enough to swim in
You can't really swim in the Vaporesso ECO Nano Replacement Pod but we exaggerate because it is truly a giant, long-lasting pod for a simple, compact pod vaping device! How big? Keep reading to find out:
T-Rex-sized 6mL e-liquid capacity – bring your e-liquid top-ups to a bare minimum with the ECO Nano Pod that's actually larger than many vape tanks! If T-Rex vaped, he'd be super happy with an Eco Nano until he breaks it.

Disposable – keep refilling the pod and when it stops vaping as well (excess leaking, bad vapour favour, much less vape clouds), you dispose of the pod and replace it with a new ECO Nano Pod.
Lasts 13000 puffs – this amount of puffs means your ECO Nano Pod could last one to two MONTHS or more, depending on how you vape.
Cost-efficient – lasts longer than a lot of disposable vape kits which are entirely disposable meaning it costs you 60% less to vape compared to disposables.
Vapour flavour for days – Corex Heating Technology used by Vaporesso means the morph-mesh built-in coil and cotton provide rapid, even heat for accurate flavour and longer pod life. You can say THAT again!
Easy to see e-juice level – almost transparent body lets you see your vape juice level and avoid vaping on an empty pod (possible to burn your coil).
Fills from the bottom – under the black rubber plug at the bottom, there's a large fill port to fill the pod with vape juice. Yeah, having to remove the pod from the battery to fill can be annoying but the ECO Nano Pod's large e-liquid capacity means you do this waaaay less often than comparable pod sizes.
Magnetic pod connection – keeps your pod securely in the battery even while carrying.
SSS leak-resistant technology in the pod which stands for:

seal comprehensively with the o-rings that keep the air pressure in for a tighter draw
store safely with extra seal that may prevent the ECO Nano Pod leaking while not being used
saturate properly via the large coil openings to the cotton to avoid burning the coil or getting a dry hit (aka helps prime coil and keep the cotton wet while vaping).

MTL draws – inhale vapour to your mouth, hold, then draw to the lungs like you used to puff on the old, stinky, cancer stick. The included 0.8 ohm ECO Nano Replacement Pod and 1.2 ohm pod (sold separately) both provide you great for MTL draws that aren't super restricted. Since there's no airflow adjustment, the 1.2 ohm pod may be produce a slightly more restricted draw than the 0.8 ohm.
Please note:
Remove the plastic strip at the bottom of new pods before using.
We recommend purchasing extra ECO Nano Replacement Pods as the ECO Nano Pod Kit only comes with one pod.
We also recommend picking up a Type C Charging Cable if you don't own one as the kit does not come with one.
It's essential to prime new pods before vaping.
Remove the pod from the battery.
Open the black plug underneath the pod.
Fill with vape juice.
Put the plug back in the pod.
Cover the air holes at the bottom of the pod with your finger while gently taking about five short draws on the mouthpiece. This draws e-liquid to the coil's cotton to saturate it and avoids getting dry hits or prematurely burning your coil. You can also let the pod sit for five minutes after filling to saturate the coil.
Install the pod on the battery and vape.
Vaporesso ECO Nano Pod Kit Specifications:
Size: 77 x 44.7 x 18mm
E-liquid capacity: 6mL
Built-in battery capacity: 1000mAh
Type-C USB port, 5V 1A
Pod lasts 13000 puffs (maybe months of vaping)
SSS Leak-Resistant Technology
Disposable (refillable) pods but not entire kit
MTL vaping
Corex Heating Technology (good flavour and longer pod life)
Low to medium vape cloud production
Easy, button-less vaping
Good for beginner vapers
Inhale-activated draws (auto-draw)
Package includes:
Vaporesso ECO Nano Battery Mod
Vaporesso ECO Nano Mesh Pod (0.8 ohm)
User manual
This product does not contain nicotine.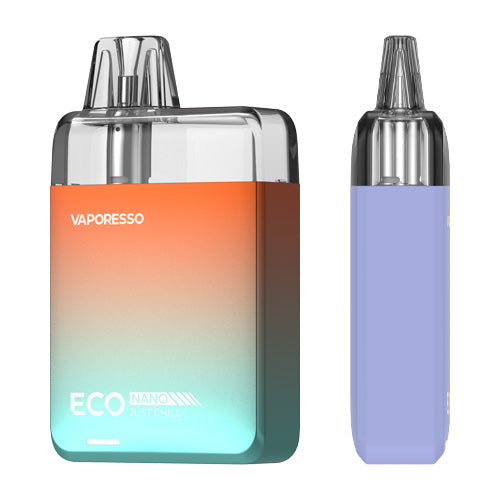 Vaporesso ECO Nano Pod Kit
Regular price
Sale price

$22.95
Choose options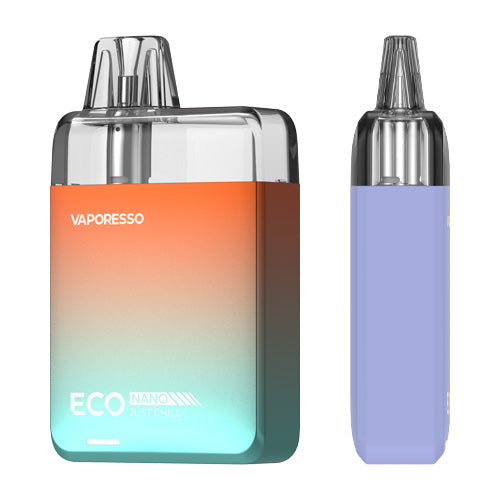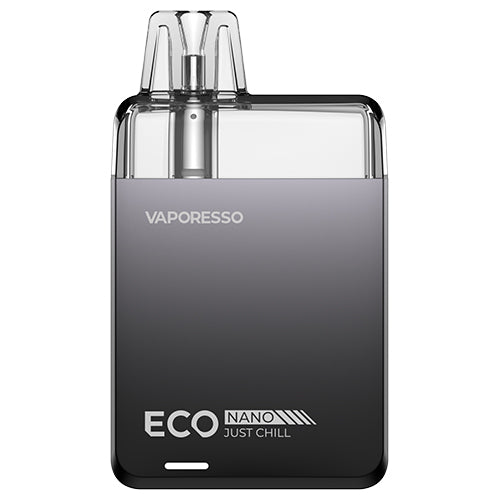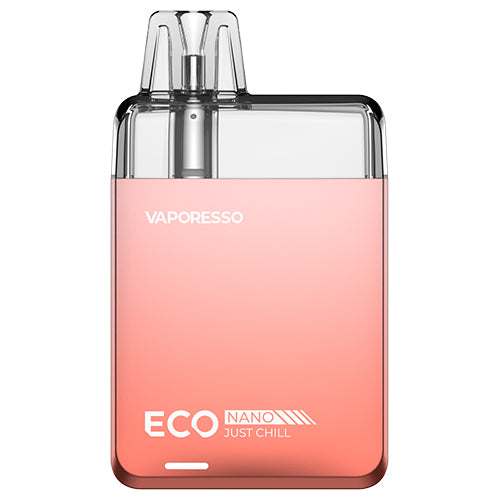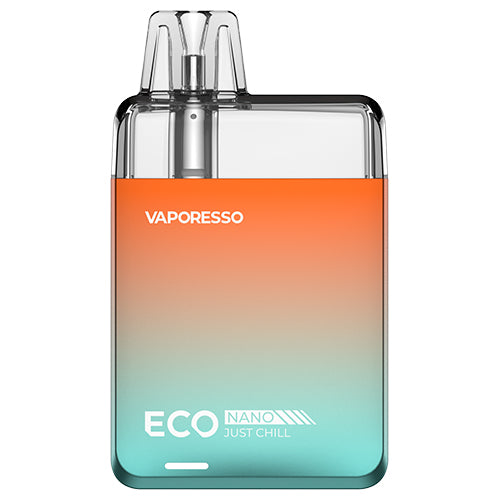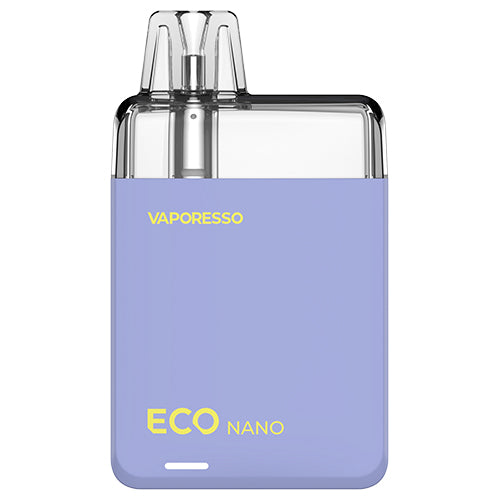 Great alternative to disposable vapes
Draw is super smooth, super comparable to a disposable. Highly recommend!
Excellent POD
Love it. Have ordered another
Winner!
I couldn't be happier with the Eco Nano. Great flavour, nice and compact, large pod/tank capacity, no leaking, and great battery life. I've also got an Xros 3 mini but much prefer the Eco Nano. Do yourself a favour get one!
I received it and it doesn't work. not charging
I received it and it doesn't work. not charging