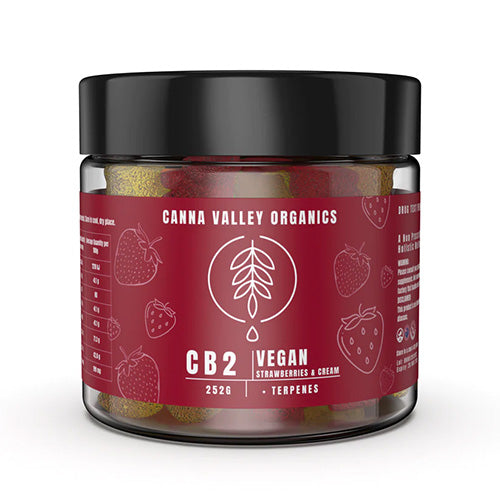 Strawberries & Cream - Vegan - Canna Valley Organics
Regular price
Sale price

$59.95
(/)
Strawberries & Cream by Canna Valley Organics is imbued with Sativa seed oil and (CB2) beta-caryophyllene, this delightful treat offers a sweet escape with a focus on your overall well-being. Embrace plant-based indulgence, free from harmful additives, as you enjoy the benefits of our carefully crafted, vegan formula. Dive into the world of natural flavors and colors, and let each bite be a step towards a harmonious, plant-powered lifestyle.
Strawberries & Cream Specifications:
Sativa Seed Oil Infusion
(CB2) Beta-Caryophyllene for Wellness
Plant-Derived Flavors and Colors
Vegan, Additive-Free Formula
Ingredients Unveiled: Glucose (Maize), Sativa Seed Oil, Maltodextrin, (CB2) Beta Caryophyllene, Raw Sugar, Water, Starch (Maize), Natural Flavour, Natural Colours (163, 171), Acidity Regulators (331, 330), Glycerine, Coconut Oil, Carnauba Wax.

Take 5-10 gummies daily, adjusting intuitively. Users report positive responses, whether used as a pre-workout boost or a pre-sleep ritual.

Package Includes:

252g Canna Valley Organics Strawberries & Cream
This product does not contain nicotine.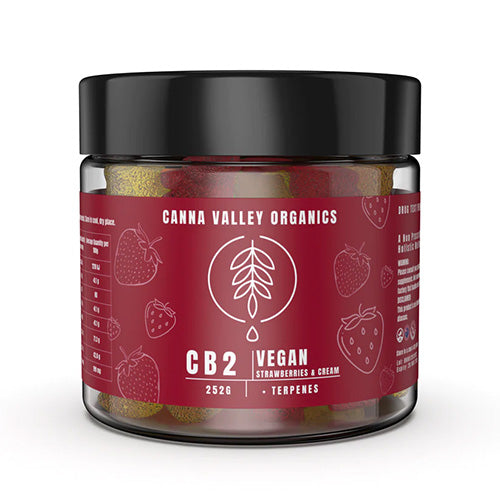 Strawberries & Cream - Vegan - Canna Valley Organics
Regular price
Sale price

$59.95
Choose options